We

Can

Have It All!
Free Health Care, Medicines, College & Peace
Love In Action (Help) Wins:
American Dream & Peace
Most Developed Countries Are 

FAR HAPPIER & SAFER

 Than Us Because Of:
Health Care & Medicines For All
College & Job Training For All
Great Pay ($20/Hour Minimum)
Paid Vacations & Sick Leave
Paid New Parent Leave For Months
Great Childcare, Pre-K & Education for all
Payments To Families With Children
Great Retirement Benefits For All
Elder Care
Common Sense Gun Control
We

CAN

 Have All These Things, Too!
Billionaires and corporations spent over 

HALF A BILLION DOLLARS

over decades to get ever richer and prevent us from having these benefits, buying politicians and even writing laws for Congress.
Progressive Democrats are the only ones 

FIGHTING BIG MONEY POLITICS

 to win us all these benefits.
Only Progressive Democrats 

FIGHT 

for the 

AMERICAN DREAM

.
Fighting For The

AMERICAN DREAM 

Makes Our Politics More 

LOVING (CHRISTIAN)

!
Our government used to be far better at helping people when they were down and out, lifting them up with a helping hand and the basic foundations for success.
Selfish billionaires have hoarded everything, crushing our middle class, and leaving most Americans stressed and struggling in a dog-eat-dog nightmare version of capitalism.
Progressives and Christians understand the 

GREAT POWER OF LOVE

in action or 

HELP

to lift people up and transform the world.
Love In Action =
Help =
Progressive Policies =
Christianity, 

Religion
In Action
Christians Need To

TAKE BACK

Christianity From The Far Right!
The Bible has 2,103 verses emphasizing taking care of the poor.

Jesus especially loved the poor and went out of his way to help lowly, despised sinners and outcasts.  

The Bible has over 100 verses about welcoming and loving immigrants.

In the Parable of the Good Samaritan, Jesus argued hated immigrants may be far better people than our own preachers.

Progressives and Christians who believe in taking care of all of God's creation share great concerns for our environment.
PUBLIC OPINION

 Drives Politics, So Awareness & Education Are Key
Help 

SPREAD THE WORD

 About

LOVING

(Progressive, Christian) Policies That Can Bring

PEACE & PROSPERITY

 To

ALL

!
Tell

ALL 

your friends, relatives and acquaintances to read these free articles!  
We can choose a much more loving (Christian) kind of capitalism to develop far more trust, kindness, peace, harmony, and prosperity.
We also have stickers, posters and shirts below, designed to raise awareness.
Even if you don't buy any posters,

RAISE AWARENESS

by

 telling all your friends, relatives and acquaintances to read the posters on our website!
Public Window/Vehicle S

tickers To

 CHANGE THE WORLD 
Posters

 To

 CHANGE THE WORLD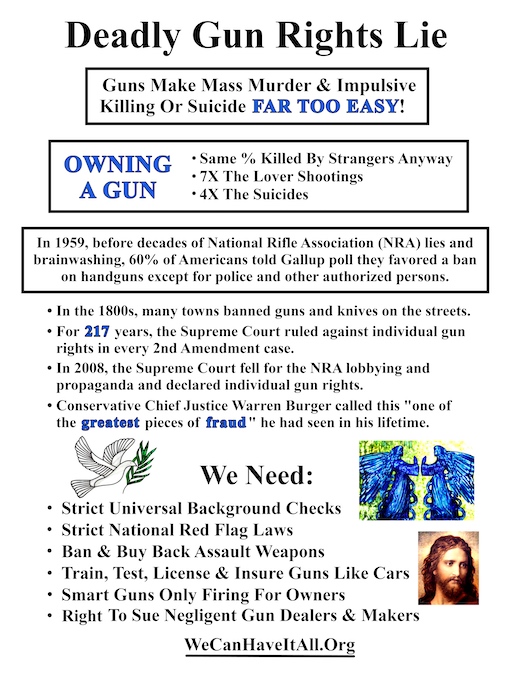 Shirts To

CHANGE THE WORLD 
We also offer some reading material to 

raise

 awareness for a small cost:
For 99 cents, you can read:
For 49 cents, you can read:
For $3.99, you can read our ebook:
Endless Sordid Trump Tales: Crimes, Mafia & Oligarchs
You can also pre-order this as a print book.
Click on this link to see more details.
Anything you buy will help us spread the word:
Author Chuck Falcon is finishing up his next book:
Love, Help, American Dream & Peace
Click below for more details.
We have some exclusive, one-of-a-kind art pieces designed by author Chuck Falcon up for private bid auctions.  One is a quilt and the others are stained glass.  We hope some mega-donors will acquire these pieces to support his work and to help us market more effectively and spread his ideas across the country. 
© Copyright 2022 Peace & Harmony Press. All rights reserved.